Hi, my name is Lily and I'm in the Grade 2 class.
On my vacation, I went to Texas. I visited family that I didn't know and they were Holocaust survivors. I spent time with Bill Morgan. He was my mom's Zaidie's first cousin.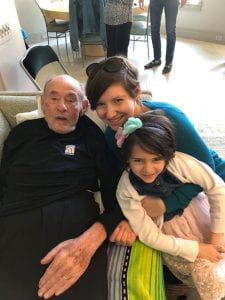 I went to the Holocaust Museum and I got scared when I saw butterflies and what they represented. I learned a lot about the Holocaust and Nazis. I bought a book called The Whispering Town and shared it with the class when I got home. 
I wanted to share this on the blog because it was very special to me. It was special because my brothers weren't there. I was with just my mom. It was special to learn about my family's history.