To follow up on yesterday's presentation, here is an explanation of the different sheets that can be found in your child's navy blue reading duo-tang.

This sheet indicates your child's reading level in Jelis for every term. Your child should read at this level when doing French reading homework. Every time they are assessed, this sheet will be updated and you will be able to track your child's progress. If I have noted that your child should also practise syllables, please see the next sheet:
This syllable activity will help your child with pronunciation of vowels (which are different in French than in English). I ask that you set a timer for one minute and have your child correctly read as many syllables as possible. When the timer ends, you should put a sticker or sticky note on the last syllable they were able to read. The next time you do this activity, try to move the sticker further.
This sheet contains images of the sons composés we will be learning in class. It goes along with the program Raconte-moi les sons, which contains a story for each image. Your child should already be able to identify in this sheet, the son OU and explain to you the story of the tired ghost.
These sheets are your child's reading log. Each time they read, I ask that you (or your child) writes down the name of the book, the level, date and level of difficulty of each book.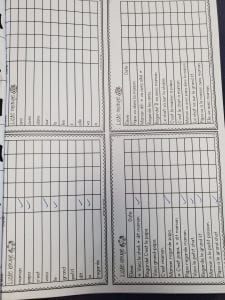 This sheet is for information purposes only and go along with our sight word and frequently-used word program that we work on in class. It should give you an idea of words your child can consistently read correctly and their next steps in this program.