What a fantastic way to end our week!
We started our journey with Stella in October 2019. As a class we read Stella Diaz Has Something To Say for the Global Read Aloud! We totally fell in love with Stella (and not just because the cover of the book is Morah Lianna's favourite colour). 
After connecting with Angela Dominguez on Twitter a few times, we saw that she was releasing a second Stella Diaz Book! We were so excited that she replied to our tweets!
Jumping into Distance Learning in the middle of March, Morah Lianna decided this was a perfect time to read Stella Diaz Never Gives Up! Over the last month and a half, the students in Grade 2 listened to Morah Lianna reading this Stella Diaz book chapter by chapter. We fell more in love with Stella  (is that even possible?!). We did some awesome activities as "chapter follow ups"… we explored the Shedd Aquarium via Twitter and we even made tote bags to help follow Stella's pledge! 
After sharing a picture of the DIY tote bag & tweeting back and forth with the incredible author (Angela Dominguez), Morah Lianna decided to direct message (DM) and ask for a virtual author visit! Angela Dominguez was so quick to reply and set up this visit! WE ARE SO LUCKY!
We spent this week brainstorming questions on Jamboard and preparing for the big visit!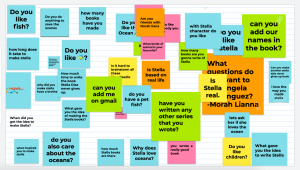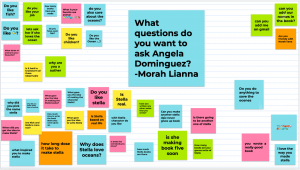 Having Angela Dominguez join us was incredible! She answered all of our questions, introduced us to her favourite animal (her dog, Petunia), and shared some wisdom about reading, writing, and believing in yourself!
We can't wait for Stella Diaz Dreams Big to come out in January 2021!
We are also crossing our fingers and toes that some of our names show up in book #4!
Grade 2 Parents: If you have any pictures or videos from this incredible author visit, please send them my way so I can add them to this blog post!