Hi, my name is Noa. This blog post is about my Social Studies homework. 
For my Social Studies homework I made food from Mexico. It was tacos. I enjoyed making this dish. It was delicious! My mom and dad helped but I did a lot. I have helped to cook meals many times before and I have even baked! When I was cooking dinner last night, I was working with onions so my eyes got watery and they stung a bit. That didn't feel very good.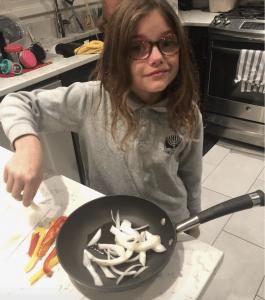 We had hard shells, soft shells, beef, rice, and lots of toppings!! I asked my mom, dad,, and my sisters, Maia and Delilah, if they liked their dinner and they said yes! My favourite part of this was eating the tacos!
I like to cook because I am trusted with the stove. Next, I will cook spaghetti! I want to cook spaghetti because I think that working with noodles and sauce would be very fun. 
Please leave a comment to tell me what your favourite meal to cook is!