Hi my name is Fenway. I am a student in 2A at the OJCS. I am blogging because I want to share what happened on the weekend. 
When I was biking over the new bridge that goes over the Canal, I saw 10 giant carp that were 2 feet long. They were in a little pond under the new bridge. I was worried because it wasn't even a foot of water and the whole thing would freeze over the winter so the would die.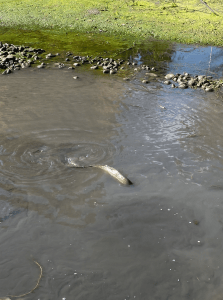 My dad posted the pictures and video on his twitter account and I wrote a tweet to Jim Watson (the mayor). 
I tagged Jim Watson in the tweet so he can tell City Council to help the fish. Tim Tierney replied to my tweet. 
The next day, I went to check on the fish and there was no movement in the water. So we looked closer and the fish were gone. We saw footprints in the mud so we realized that the NCC helped rescue the fish. 
My Morah says we always need to reflect when we blog… so here I go:
It made me feel sad that the fish were not safe but the next day I was more happy because the fish were saved. I learned that Twitter can be useful to communicate with important people that can help make a difference.
Thank you to the people that saved the fish!